Here are a few Diablo III tips that should improve your experience considerably.


Remap your ability keys.
Did you know you have the power to remap your keys? For optimal results, move your ability hotkeys from 1-4 down to ASDF, and change Move to W. That way you never have to move your left hand from its natural position on the left side of your keyboard in combat, and you could put something on spacebar perhaps health potion or show items.


Explore those mini-dungeons.
The best loot drops generally come from killing Inferno-level bosses with a full stack of Nephalem Valor, but that's a bit in the future for most of us. In the meantime, do check out those Dank Cellars and Lost Ruins and the like – the mini-dungeons that dot the landscape in each act almost always have an elite/champion pack and a gold chest. From an XP/loot per time perspective, they're some of the best locations in the game.


Place the best ruby you can afford in your weapon.
The best rubys should only cost you around two thousand gold on the auction house, and the damage it adds when socketed into a weapon is substantial. Putting a square or better gem in a new character's weapon is a great way to give a recently created hero a significant boost. Don't forget to remove the gem from your weapon and drop it into a new one as you level and outgrow it – it's almost certainly quite a bit cheaper than buying a whole new gem.


What tips do you have to share?
Here is an easy one for you. When playing multi-player don't be afraid to go threw your skill and change runes to benefit the entire party. You would be surprised how even in a game with just 2 people how big a difference one or two party skills coming from both characters can make a difference. Take for instance the Barb's War Cry Invigorate along with a Monks Mantra of Healing Sustenance. The Mantra boost life Regen of party members by 620 per second While the War Cry boosts it an additional 310. That is 930 life Regen and 10% extra life bonus who doesn't want that stuff?

igoStoozy




Posts

: 61


Points

: 2583


Join date

: 2012-01-27



Searching around the web I found a few class-builds, I will post all classes soon, but for today I will post the Wizard builds:
The Storm Mage
Preferred stats: Weapon Damage, Intelligence, Attack Speed, Max Arcane Power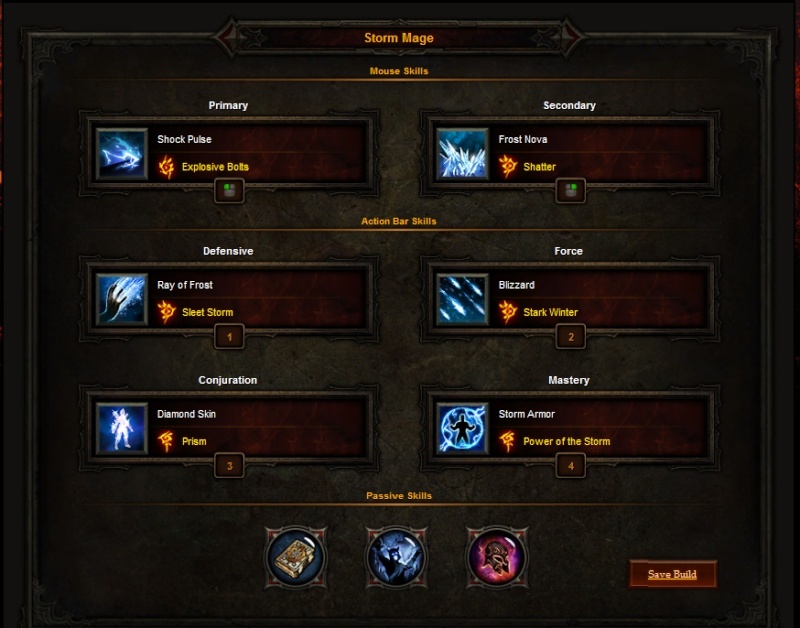 The Z Fighter (Ranged)
Preferred stats: Weapon Damage, Intelligence, Vitality, Max Arcane Power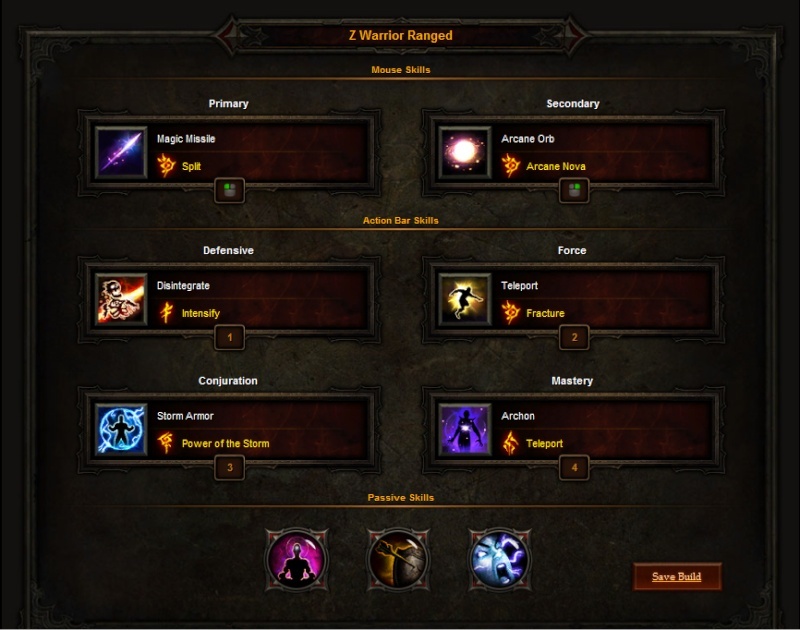 The Glass Cannon
Preferred stats: Critical Chance, Critical Hit Damage, Weapon Damage, Intelligence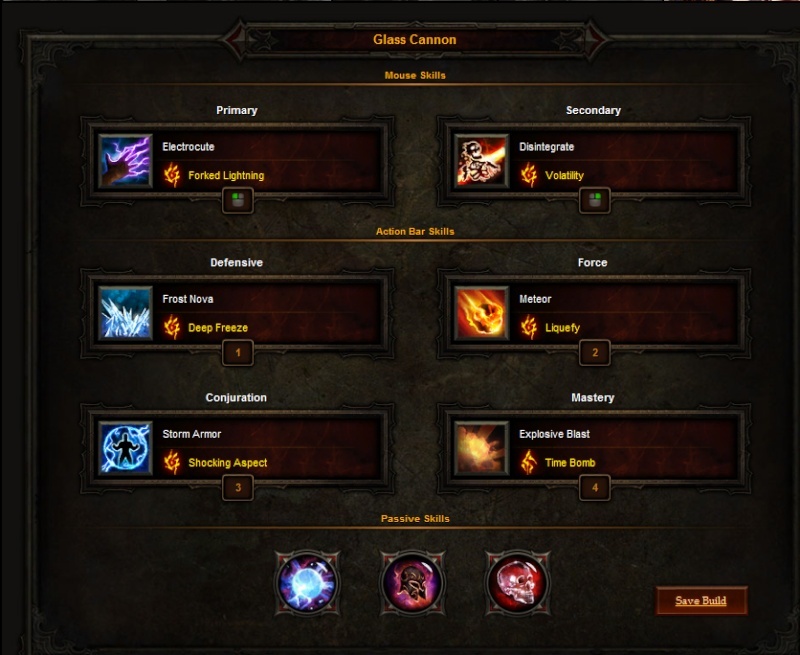 The Battle Mage
Preferred stats: Armor, Intelligence, Vitality, Elemental Resistance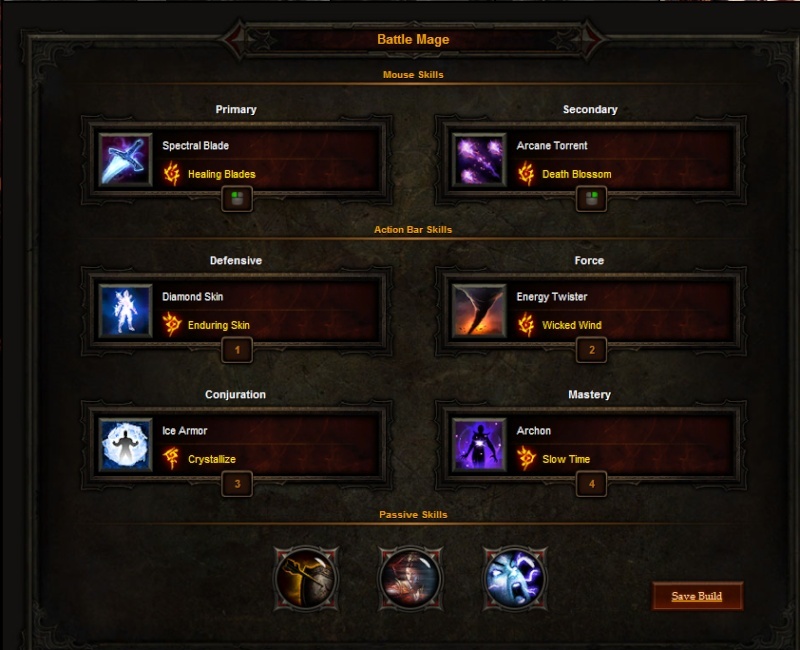 Listen to all of the Blacksmith's conversations.

A list of all of Haedrig Eamon's conversations and their earliest availability, when they become unavailable, and if they unlock additional conversations. Hop Points provided for those jumping through Change Quest.

Note: A second playthrough is required for some Act I conversations.
Act I
1. The Fallen Star

* Hop Point – Rumford at the Gates
* Talk to Captain Rumford at the Gate to New Tristram
o New Tristram
+ (Becomes unavailable at The Legacy of Cain.)

2. The Legacy of Cain

* Hop Point – Begin Quest
* Use the New Tristram Waypoint to go to the Old Ruins
o Cain's Disappearance
+ (Becomes unavailable at A Shattered Crown.)

3. A Shattered Crown

* Hop Point – Begin Quest
* Available after completing The Legacy of Cain.
o The Weary Blacksmith
+ (Talk to the blacksmith before picking up the quest from Deckard Cain.)
* Hop Point – Northwest Gate
* Open the Northwest Gate
o Haedrig's Grandfather

4. Reign of the Black King

* Hop Point – Begin Quest
* Available after completing A Shattered Crown.
o Mira Eamon

5. Sword of the Stranger
6. The Broken Blade
7. The Doom in Wortham

* Hop Point – Begin Quest
* Available after completing The Broken Blade.
o Haedrig's Father

8. Trailing the Coven
9. The Imprisoned Angel
10. Return to New Tristram

* Hop Point – Begin Quest
* Talk to Tyrael in New Tristram
o Fate of Haedrig's Father

Act II
1. Shadows in the Desert

* Hop Point – Begin Quest
* Go to the Caldeum Bazaar
o Returning to Caldeum

2. The Road to Alcarnus

* Hop Point – Begin Quest
* Cross the Black Canyon Bridge
o Changes in the City

3. City of Blood
4. A Royal Audience

* Hop Point – Begin Quest
* Available after completing City of Blood
o Meeting Mira

5. Unexpected Allies
6. Betrayer of the Horadrim

* Hop Point – Begin Quest
* Available after completing Unexpected Allies.
o About Mira

7. Blood and Sand

* Hop Point – Begin Quest
* Available after completing Betrayer of the Horadrim
o The Vecin

8. The Black Soulstone

* Hop Point – Begin Quest
* Search for the Archives of Zoltun Kulle in the Desolate Sands
o Going to Tristram

9. The Scouring of Caldeum
10. Lord of Lies

* Hop Point – Begin Quest (After talking the Soul of Belial.)
* Talk to Tyrael at the Hidden Camp
o Caldeum After Belial

Act III
1. The Siege of Bastion's Keep

* Hop Point – Light the Beacons
* Signal Beacons in the Skycrown Battlement
o Bastion's Keep
+ (This conversation is miss-labled as an Act IV conversation in the achievements.)
o The Future
+ (Becomes unavailable after Turning the Tide.)

2. Turning the Tide

* Hop Point – Begin Quest
* Catapults raised in Stonefort
o Raising the Catapults
+ (Becomes unavailable after The Breached Keep.)

3. The Breached Keep
4. Tremors in the Stone

* Hop Point – Begin Quest
* Go to the Armory
o The Final Goal
+ (Becomes unavailable at Machines of War.)

5. Machines of War

* Hop Point – Begin Quest
* Go through theArreat Gate
o Tides of Battle
+ (Becomes unavailable at Siegebreaker.)

6. Siegebreaker

* Hop Point – Begin Quest
* Find the demon gate at the Edge of the Abyss
o Nerves

7. Heart of Sin
Act IV
1. Fall of the High Heavens

* Hop Point – Begin Quest
* Talk to Tyrael at the Diamond Gates
o Haedrig's Sorrow

2. The Light of Hope

* Hop Point – Corruption Growths Teir 1
* Find and destroy the Corrupt Growths to reveal the hidden Hell Rift portal
o An Apology

3. Beneath the Spire
4. Prime Evil
Act I
1. The Fallen Star
2. The Legacy of Cain
3. A Shattered Crown

Hop Point – Begin Quest
Talk to the blacksmith Haedrig Eamon
Who Are You?
Prophecy of the End Days
Your Adoptive Niece
Mad King Leoric
(Unavailable after starting Sword of the Stranger.)

4. Reign of the Black King
5. Sword of the Stranger

Hop Point – Begin Quest
Go to the Fields of Misery
The Horadrim
The Archangel Tyrael
(Available after listening to The Horadrim.)

6. The Broken Blade

Hop Point – Begin Quest
Available after completing Sword of the Stranger.
Origins of the Coven
Hop Point – Talk to Alaric
Retrieve the Beacon of Light from the Crypt of the Aincents
Leah and Cain's Travels
The Worldstone
Destruction of the Worldstone
(Available after listening to The Worldstone.)

7. The Doom in Wortham
8. Trailing the Coven
9. The Imprisoned Angel
10. Return to New Tristram
How does magic find work:
http://us.battle.net/d3/en/game/guide/items/equipment#magic-find

How does Duel Wielding work:
http://us.battle.net/d3/en/game/guide/items/equipment#dual-wielding

---
Permissions in this forum:
You
cannot
reply to topics in this forum