My first few hours with Day Z.

In case you are unfamiliar with Day Z or with Arma II lets start from the beginning.
Arma II is essentially one of the most ambitious and semi-realistic shooters of our time. It's a Gigantic (and I mean F*ing Huge) Sandbox shooter. I like to say that Arma is to First Person Shooters as Sins of a Solar Empire is to Real Time Strategy. There is so much you can do with Arma II it is a bit overwhelming, I believe there is an action for every single key on the keyboard.... go ahead and think about that for a moment. I have spent very little time with the actually Arma II game other than a brief run through a few tutorials, and a brief match or two. I bought Arma II simply to play the much hyped Day Z mod.

Day Z is a mod for Arma II that is currently in Alpha stage(no not even Beta yet). Basically when a game is in Alpha its kind of like, well here this is what this game is "kind of" going to be like, but it probably wont run for very long if at all. With Day Z being a mod, not a game from the ground up this is not entirely the case. However skipping past most of the current (possibly future addressed) issues with getting the mod installed, working, updated, etc (this became a bit of a headache). Lets move on to my first few hours with Day Z!

I spawned on a coastline with beautiful mountains and trees in front of me, i could hear the waves of the ocean behind. Wow what a first impression! The scenery is one to only see, I am not quite on the level of writing to explain that simply journeying around this game looking at things is an enjoyment few games this day and age can offer. I check my inventory; you start out with a pistol, a few clips, bandages, and a few (much needed) flares. Leaving the coastline I ventured to the road, "where to go?" so i started a journey hoping to find some sort of civilization. It wasn't long before I came to my first town, and my first encounter with the undead. You can sneak around and try to remain un-spotted, this becomes easier the more you play, but my first reaction was to just run into town guns-a-blazing and start shooting. This was bad. What starts out as 1 or 2 zombies, turns into 10 really fast after they hear a gunshot, and I was quickly eaten.

An interesting thing about this game is that the day-night cycles are real-time, meaning if you are in a CDT server at 11:00pm(real time) is dark, 2pm(real time) it is light, you get the idea. I found most people on this particular server (60 max currently I believe) to be overwhelmingly helpful. However the most enjoyable experience about DayZ was teaming up with Mottzilla and working together covering each other, etc. Scavenging is pretty much the name of the game, you want to search buildings, towns, houses, etc to find more ammo, better guns, flairs, water canteens...well you get the idea. (realism, you need to eat and drink or you will die.) Mottzilla and I ran into our first bandit, a bandit is someone who is not friendly they kill other players and take the items they worked so hard to collect. Which brings me to my next point, when you die you lose everything and start over. The hours you may have spent collecting, is now gone. Though this adds a High level of frustration with each death, brings out the heart pounding, amazing experience that this game offers every time you engage into a battle.

Though my initial motivation in any game is to be friendly, and work together with other players, after our first few run-ins with bandits we quickly found ourselves becoming bandits as well. It's so fascinating how you think about the movies you have watched where there is always some group of A*holes who are only our for themselves and you always think someone should just take them out. But in the Post-Apocalyptic world that is Day Z this becomes one of the ultimate routes to survival.
We seen a sniper sitting on a hill top in the mountains, this would be our first victim, we knew he had at least a sniper rifle on him, and this would come in more handy then anything else we had picked up thus far. Mottzilla and I worked together, he circled right i circled left, the sniper was aiming on a group of zombies in a position ahead that he was probably looking to move into. I got in close...sneaking as to not make any noise to alert the would be victim. "FIRE" we both shot and dropped this unsuspecting player before he even knew what hit him. What a rush, my heart was racing, "quick check his pack" i screamed as I kept lookout for any friends of his that may have been lurking nearby. "OMG this guy is loaded" Mottzilla tells me. We filled our picks until we couldn't carry any more, ammo, guns, hunting knifes oh my!

As I stated previously Day Z is only in Alpha stage, and is a possible full release (next year perhaps?) unknown at this time. But putting the bugs, mod installation issues, spawning issues(the most frustrating as you will spawn god-knows where, and your friend spawns god-knows where as well and spend a majority of your time trying to meat up) aside Day Z delivers one of the most heart-pounding realistic experiences I've never had in a game before. I look forward to spending Alot more time in this world and hope to have time to write more about it as well. Until then Game on!
Visually impressive!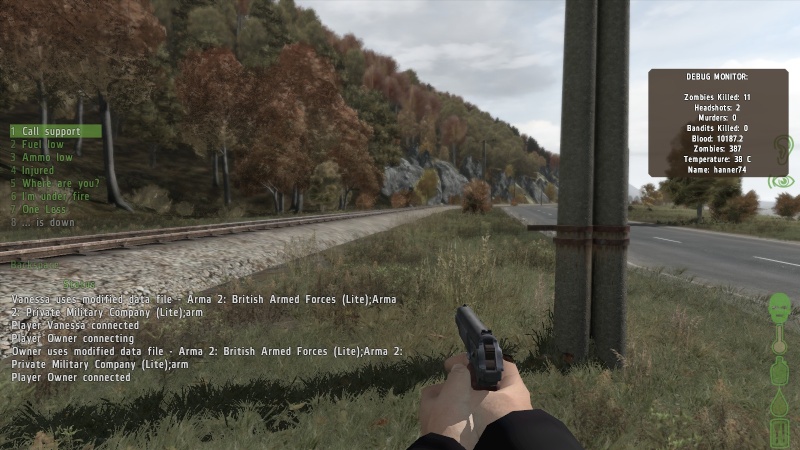 I wonder whats on that island?
OMG what happend to you!?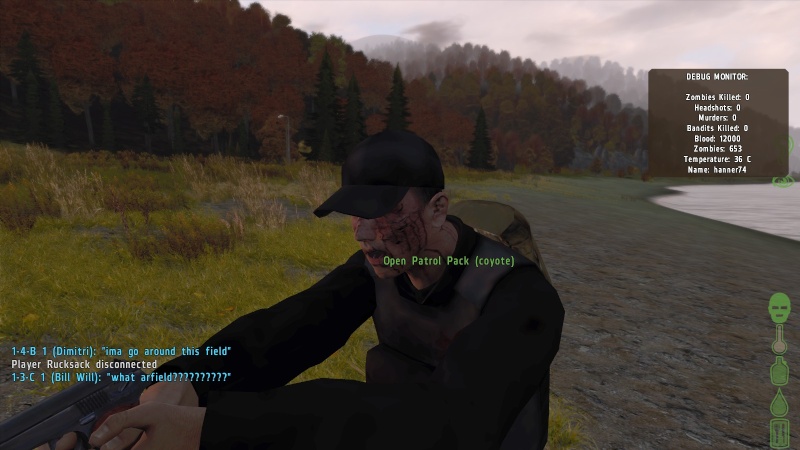 Are those .... are those survivors?.... OMG no the zombies can swim, we are doomed!
I have to agree, the game is incredible! My biggest problem with the MOD is the low FPS in certain servers that require you to recconect or join a new server. I have tested settings on singleplayer and normal arma 2 multiplayer and don't have frame rate issues. Also, the initial load times can be a bit long, depending on the server. The bigger your group the better, although if you are playing with unknown people, go by the trust no one mentality. I have had several times being shot in the back by "partners". As Dr. Macro said, you lose EVERYTHING when you die, all the time you put in is gone, unless you get a tent and hide your supplies. I plan on doing this Saturday, after I get my new RAM installed

_________________

igoMOTTZILLA

Admin




Posts

: 487


Points

: 3286


Join date

: 2012-01-25


Age

: 28


Location

: Le Mars



Ohh.... By the way, Arma II is top seller on steam right now topping Max Payne 3 Preorders right now.
_________________

igoMOTTZILLA

Admin




Posts

: 487


Points

: 3286


Join date

: 2012-01-25


Age

: 28


Location

: Le Mars



Here is a bit of an idea how big Arma II/Day Z is:
http://avidblur.com/arma2/
-if you look at the map in the link above you can only begin to fatham how overwhelmingly huge this map is.
I have only spent time in this area: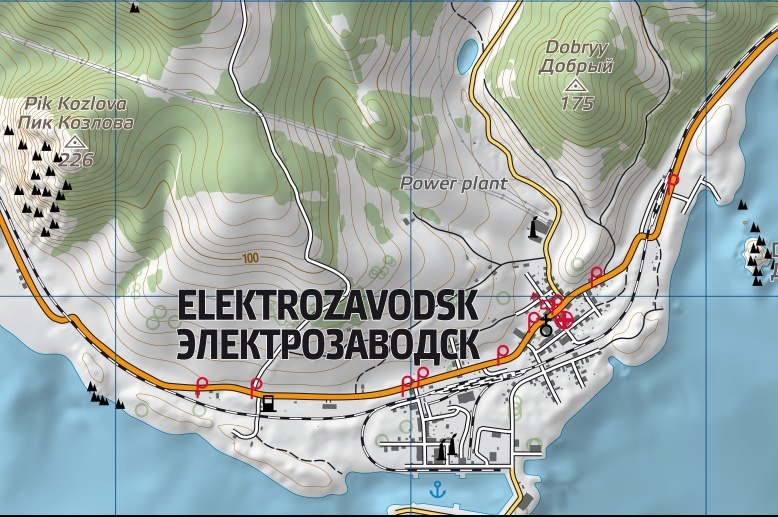 ---
Permissions in this forum:
You
cannot
reply to topics in this forum