During E3 Sony wowed the crowd by giving us some news that plus will be hosting 12 full games, all at one time. It is unknown how many more games we will see, but it seems they have taken the PS minis and classics out of the mix. The game that are now giving to all PS Plus members are:

Virtua Fighter 5 – June 5th
inFAMOUS 2 – June 5th
Little Big Planet 2 – June 5th
Ratchet and Clank: All 4 One – June 5th
Warhammer 40,000: Space Marine – June 5th
Just Cause 2 – June 5th
Saints Row 2 – June 5th
Lara Croft and the Guardian of Light – June 5th
Hard Corp: Uprising – June 5th
Choplifter HD – June 5th
Zombie Apocalypse Never Die Alone – June 5th
Sideway NY – June 5th


Now these are some older games, but compared to the earlier PS plus, this is a big step up. Heck, this made me turn on my PS3 for the first time in like 70 days. I will try to post more info on this when it is released, for right now we don't know how many more games we will see. I do remember Sony sending me a survey late last year for Plus related feedback concerning prices, and game releases. I don't remember exactly all what this entailed, going to try to dig this back up and possibly get some more info.
_________________

igoMOTTZILLA

Admin




Posts

: 487


Points

: 3466


Join date

: 2012-01-25


Age

: 29


Location

: Le Mars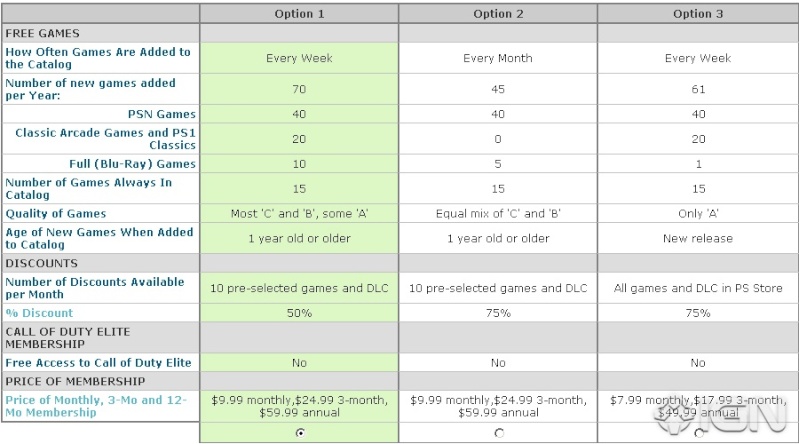 Well it didn't take me long, looks as if they are going to B option, which says we will be seeing 40 PSN games a year, 5 being full (Blu-Ray) games. I believe we had 6 on the games that were released being full blu-ray games. Notice the cancellation of the classics and minis from the list.
_________________

igoMOTTZILLA

Admin




Posts

: 487


Points

: 3466


Join date

: 2012-01-25


Age

: 29


Location

: Le Mars




---
Permissions in this forum:
You
cannot
reply to topics in this forum