Nintendo has announced the Wii U will launch in Japan on December 8 and will be available in two different models.

The basic set, which will be white, will feature 8GB of flash memory, comes with a white Game Pad, an AC adapter, an HDMI cable, and will cost ¥26,250 or approximately $337.

The premium set, is black, will feature 32GB of flash memory, a black Game Pad, an AC adapter, an HDMI cable, a Game Pad dock, a console stand, a two-year Nintendo Network Premium subscription, and will cost ¥31,500 or approximately $405.

A standalone Wii U GamePad will set Japanese gamers back 13,440 yen or approximately $170.
The Pro Controller(360 ish looking,with no screen) will cost 5,000 yen or approximately $64.

New Super Mario Bros. U will cost ¥6,000 ($77) and Nintendo Land will be ¥5,000 ($64) in Japan. Both games launch with the Wii U on its Japanese release date.

US and European Nintendo events are slated to take place later this morning.



_________________

igoDrMacro

Admin




Posts

: 950


Points

: 4218


Join date

: 2012-01-25


Location

: Oyens



Europe launch: November 30
US launch: November 18
$349 for the premium set
$299 for the basic set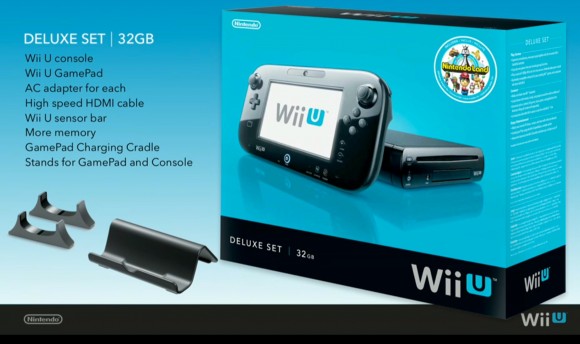 Nintendo has also announced a new entertainment initiative for the Wii U called Nintendo TVii.
Nintendo TVii basically turns your Wii U GamePad into a "second screen experience" while you watch your favorite content. The GamePad will let you control your DVR to record shows, set favorites, tweet your reactions to live moments on TV and more.
Netflix, Hulu, Amazon Video and Tivo will each be integrated. "Bringing all of your services to one place"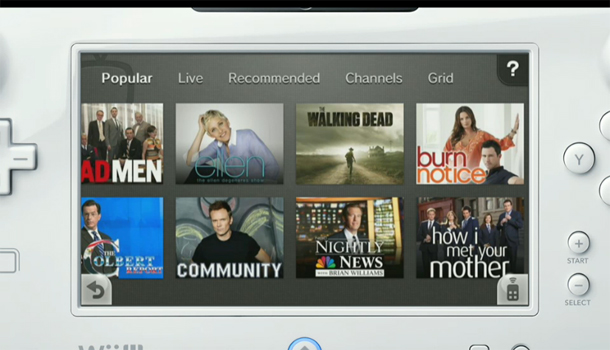 Wii-U will also allow expandable drive space: "You can plug in a full-on three terabyte hard drive if you want." Nintendo America CEO and president Reggie Fils-Aime told Engadget. "The reason we did it that way is that the cost of that type of storage memory is plummeting. What we didn't want to do is tie a profit model to something that's gonna rapidly decline over time. We'll let the consumer buy as much as they want, as cheaply as they want."
The memory expansion, will be available through USB on Flash sticks or external hard drives. Not mentioned if it will be proprietary or not, but the above quote certainly makes me think non-proprietary.
Also Wii U doesn't have the TiVO/DVR hardware built in. The DVR functionality will require an existing TiVo or DVR unit. How the two pieces of hardware will connect and work together is also currently unclear.
_________________

igoDrMacro

Admin




Posts

: 950


Points

: 4218


Join date

: 2012-01-25


Location

: Oyens



Nintendo revealed a lineup of 50 games coming out in North America within a generous "launch window," between November 18, 2012, and March 2013. Nintendo Land is definitely coming on launch day, as it's included with the Premium system. In addition, Darksiders 2 and Assassin's Creed 3 have been specifically announced as launch day game; on the other end of the window, Monster Hunter 3 Ultimate is due in March. As for the other games, they're all in the vague "launch window." Bayonetta 2, revealed as a Wii U exclusive, has no launch window.

Most games will retail for $59.99 in North America.

Our safe guesses for launch day releases include New Super Mario Bros. U, The Wonderful 101, Ninja Gaiden 3: Razor's Edge, ZombiU, and Rayman Legends (a launch game in Europe on November 30).

Xenoblade Chronicles developer Monolith Soft is working on an unannounced Wii U game, and Mutant Mudds will be released on Wii U eShop.

Accessories available for the Wii U include the Pro Controller, a $50 wireless dual analog controller. A new microphone will be sold separately, for use with Sing Party. Other accessories include charging cradles and stands for the GamePad, a vertical stand for the system, and Wii Remote Plus controllers, Nunchuks, and Sensor Bars in Wii U-branded boxes.

Additional Wii U GamePads will not be available at launch. NOA president Reggie Fils-Aime explained that no launch window games use a second GamePad, but that Nintendo will market them when there is software support.

Pre-orders
Pre-orders are open in North America at GameStop and Best Buy. Amazon is not carrying the console at launch, telling customers to "please check back in the future, as availability may change."

Funky Barn
There is a game called Funky Barn. This pig is in it:
_________________

igoDrMacro

Admin




Posts

: 950


Points

: 4218


Join date

: 2012-01-25


Location

: Oyens



Rayman Legends is no longer a launch day release. Ubisoft has confirmed that the game has been delayed to Q1 2013. "We're happy that fans are excited about the game, and we are taking the time to make sure we deliver a game that lives up to and hopefully exceeds their expectations. We'll have more details to share soon."
_________________

igoDrMacro

Admin




Posts

: 950


Points

: 4218


Join date

: 2012-01-25


Location

: Oyens




---
Permissions in this forum:
You
cannot
reply to topics in this forum