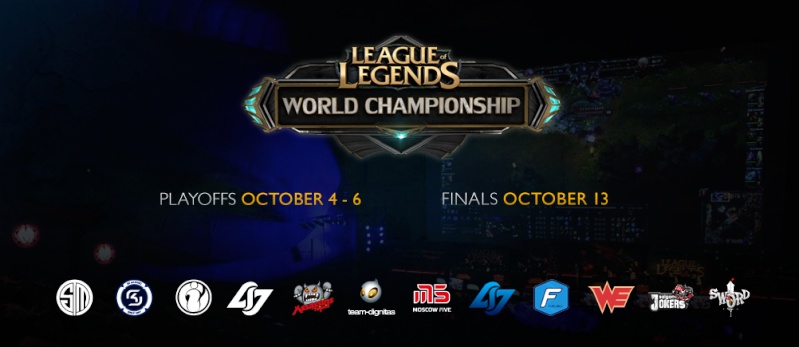 Hey IGO!
Looks like Season 2 Chanpionships of League of Legends is soon approaching! I have the feeling that most readers of IGO likely missed out on the exciting matches from last years Championship when Team FnaticMSI took the win Vs. Against All Authority to come out on top.
I'm gonna lay it out like this, Fellow IGO menbers, irregardless of you knowing anything about League or not, do your self a favor and try and catch a few of these matches. As what you will be witnessing will be the game played to its fullest, by some of the best players out there, it is sure to be something that will need to be seen to be believed, just the thought of how some of these guys cooperate and dominate boggles the mind and really makes for some exciting Viewing material, so here in early October you will find the stream hosted on the site that the pic above is linked to, the brackets are posted on the page now!.
Thoughts? Questions? Comments? Predictions? Let me hear em!
(My money is on CLG.US Taking the big W with Fnatic taking a close second, I don't think Fnatic has what it takes to pull off back to back wins, I would love them to prove me wrong though.)
Last edited by FrankTheBunny on Sat Sep 22, 2012 8:40 pm; edited 1 time in total
_________________
Is this streamed on Twitch? I would really like to watch a few to learn the game more.
_________________

igoMOTTZILLA

Admin




Posts

: 487


Points

: 3466


Join date

: 2012-01-25


Age

: 29


Location

: Le Mars



Unsure, more than likely it will be on twitch, I think riot quit using Own3D last year. either way all streams (if it is like last year) will be linked on the S2 world championship page.
_________________
Found a Reddit post that will help you find a stream, everything is posted here.
_________________
Was a great set of matches tonight with the Taipei Assassins vs. Azubu Frost for the title of League of Legends World Champions and the first team ever to have their names etched in to the newly forged Summoner's Cup oh yea and a cool million dollars for the team.
Be sure to check out the recorded streams up on Riot Games Twitch stream also on the Riot games HD own3d.tv stream.
For those without the time to look at the streams, and want to know Who the champs are
Spoiler:

Taipei Assassins takes the victory 3-1 vs Azubu Frost
I didn't get to see all of the last match stream started cutting out for me about 5 minuets from the end of the last game. re-watching it tomorrow hope to find a video up somewhere cutting out the 2 hours of fluff before the show. that part kind of bummed me out. Was just expecting about an hour at most of it after that great all star pregame but they stretched out the pregame show for too long IMO, so I missed most of the second game.
_________________

---
Permissions in this forum:
You
cannot
reply to topics in this forum